The 5 Things Holding You Back From Creating a Product-Based Personal Brand Business (And How To Actually Scale Your Expertise)💼🚀
Aug 23, 2023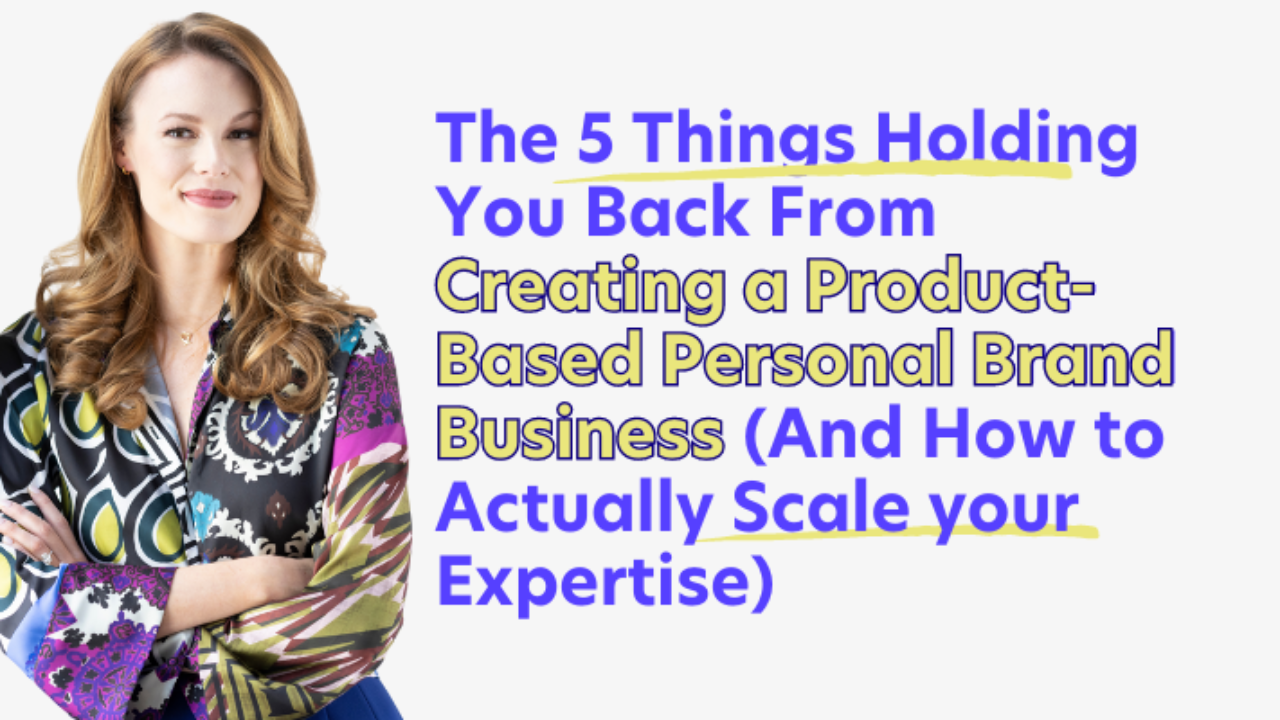 | | | |
| --- | --- | --- |
| | If you're reading this, you probably have a brilliant idea for a product-based business that has the potential to revolutionize the market. However, you might find yourself stuck trying to figure out how to turn that vision into reality. Fear not, for I will help you navigate the five common hurdles that often sabotage entrepreneurs like you from creating a successful product-based business. | |
1. Fear of Failure🙈

Ah, the dreaded fear of failure, the eternal nemesis of many aspiring entrepreneurs. It's natural to feel apprehensive about the unknown, especially in this newer "personal-brand-based model," with fewer case studies to learn from. But letting this fear consume you will hinder your progress. Remember, failure is not the end; it's a stepping stone toward growth and learning!

Real talk: Most of my successful and scalable programs now are on version five or six because versions 1-4 were not performing. That doesn't always mean the concept doesn't work, though. It means getting curious, dropping your ego, and diving in with your clients to solicit feedback on how to make it work even better!

Here's How to Overcome It:

Embrace the mindset that failures are valuable lessons in disguise. Start small and test your product concept in a controlled environment. Conduct market research, gather feedback from potential customers, and iterate based on the insights gained. This iterative process will refine your product and build your confidence along the way.

Surround yourself with a supportive network of mentors, peers, or entrepreneurial communities. Sharing your fears and experiences with others can help alleviate the burden, and you'll realize you're not alone in this journey. Remember, every successful entrepreneur you admire has faced failures, too - it's an essential part of their path to triumph.



2. No Audience🙅‍♂️

So, you have a fantastic product idea, but you're still determining if anyone will be interested. Worry not because this is a common concern among entrepreneurs. Building an audience is a crucial step in the success of any product-based business, but it requires a well-thought-out strategy.

Here's How to Overcome It:

Start by identifying your target audience. Who are the people most likely to benefit from your product? Conduct thorough market research to understand their needs, pain points, and preferences. Use surveys, social media, or direct conversations to gather this information.

Once you clearly understand your target audience, focus on building a solid online presence. Utilize social media platforms, content marketing, and search engine optimization to reach and engage potential customers.

Critical advice! Start with the ONE platform on which most of your target audience invests their time. Attempting too many platforms simultaneously is a surefire path to burnout and message dilution. Instead, go deep on one platform — learn the etiquette and various posting features it offers, and spend the time you'd spend on other platforms engaging with followers. That's a guaranteed path to growing an audience of invested followers.



3. Tool Intimidation🤯

In today's digital age, various tools and technologies are available to streamline your product development and business processes. However, the vast array of choices can be overwhelming, especially if you're not tech-savvy.

Here's How to Overcome It:

Take it one step at a time. You don't have to master all the tools at once. Identify the critical areas in your business where technology can make a difference, such as e-commerce platforms, project management software, or design tools. Earlier this year, I wrote an article about my favorite can't-live-without tools, and you can use that as a guide when navigating the millions of products out there.

Start with user-friendly and beginner-friendly tools. Many platforms offer free trials or basic plans that allow you to explore and learn without committing fully. Additionally, there are plenty of online tutorials and resources to help you get familiar with the tools you choose.

If you still find technology intimidating, consider partnering with someone who has expertise in this area. Co-founders, freelancers, or technology consultants can bridge the gap and provide the necessary technical support while you focus on your product's core strengths.

*PRO-TIP: When choosing tools, start off slow, so you avoid falling into the shiny object trap or racking up your expenses too quickly.
4. Inability to Secure Funding or Resources💸

The lack of funding or necessary resources can be a significant roadblock for many entrepreneurs. While it's true that starting a business requires some financial investment, there are creative ways to overcome this hurdle.

Here's How to Overcome It:

While bootstrapping is the de facto method for most entrepreneurs, there are some other ways to source investment. I'm covering three of them:

Consider crowdfunding as a means to raise capital. There are platforms such as Kickstarter that can help you showcase your product idea to a global audience, who may pledge money to support your venture.

Additionally, seek out business grants or competitions that align with your industry or niche. Many organizations offer financial support to promising startups. This is a commonly overlooked but very viable option for business owners.

Also, consider forming strategic partnerships or collaborations with complementary businesses. Pooling resources and expertise can reduce costs and open new avenues for growth.



5. Nailing the Right Products🎯

You might have a plethora of ideas, but choosing the right product to launch can be a daunting task. Fear of selecting the wrong product can paralyze even the most ambitious entrepreneurs.

Here's How to Overcome It:

Focus on a product that aligns with your passion and expertise. Authenticity and enthusiasm for your product will shine through and resonate with your target audience. True story: I used to focus on offering only online courses, but my heart was always in coaching people. However, I was afraid to do this because it wasn't as "passive" as the course model. I then embraced group coaching and workshops, and my close rate has increased as my hands-on passion shines through.

To find viable product ideas for your expertise, conduct thorough market research to validate your ideas. Understand your competitors, analyze market trends, and identify gaps or opportunities where your product can make a unique impact.

Consider starting with a minimum viable product (MVP). Launching a simplified version of your product allows you to gather real-world feedback, test the market, and make improvements iteratively. Here's a case study of how I did this for my first course:
Don't be afraid to pivot if needed. Sometimes, the initial idea might not work as expected, but the insights gained can lead you to discover a more lucrative path.

*Pro-Tip: Don't let choosing the right product overwhelm you, or you might become stuck in this phase. Consider creating a product development process checklist to keep you on track, and try doing some beta testing of your product. There's no better way than to roll it out to a dedicated group of people willing to test it out and share their thoughts with you.



The Recap:

Building a product-based business comes with challenges, but you can overcome these obstacles with the right mindset and approach. Embrace failure as a stepping stone to success, understand and engage your target audience, leverage technology wisely, explore diverse funding options, and trust your instincts when choosing the right product. Remember, Rome wasn't built in a day, and your journey to a successful product-based business may take time, but the rewards will be well worth it. So, take a deep breath, embrace the adventure, and let your entrepreneurial spirit soar high! 🚀
Whenever you're ready, there are 3 ways I can help you:

1. Brand Accelerator Program Throughout the year, I work with 10 professionals at a time to boost their personal brand on LinkedIn. Average student results include 1430% increase in post reach. Sign up here to hold your spot in September.

2. The Brand Bootcamp Each month, I work 1-1 with 2 entrepreneurs to organize and audit their personal brand and build a custom content operating system with 12 months of planned content. Clients are accepted via an application process. Complete your application here.

3. Content Labs Every Friday, join me for 90 minutes of high-powered content creation. You'll leave with 2 weeks of content at a time.